Dentures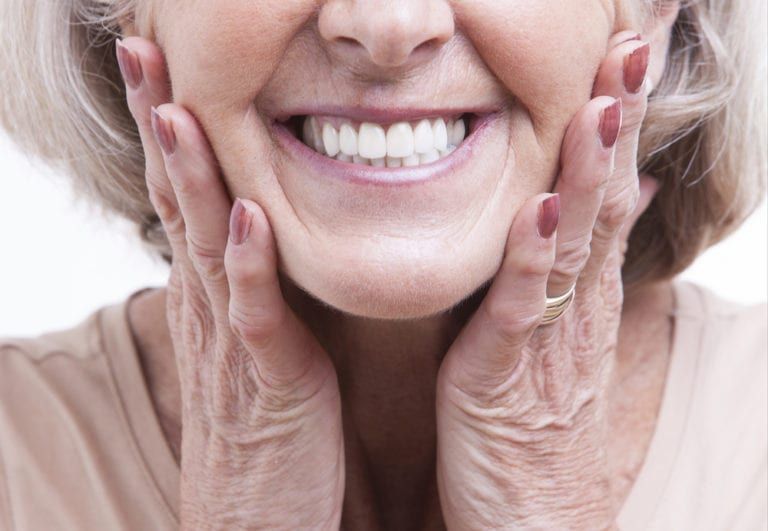 There are different types of complete dentures. Dentures are an effective and affordable way of replacing missing teeth. Composed of a durable plastic resin and sometimes porcelain, both partial and full dentures can be fabricated to look and feel natural. Today's dentures are custom-fit to make it possible to eat foods with confidence and speak articulately. Depending on the patient's preferences and budget, dentures can be crafted for maximum comfort and fracture resistance backed up by limited warranties.
Did you know…

that more than 60 percent of American adults are missing one or more teeth? Approximately 10 percent are missing all of their teeth – requiring a prosthetic solution that will restore function and aesthetics to their smiles. Many of those dental patients choose partial or full dentures to replace missing teeth. In fact, it is estimated that 35 million Americans currently wear partial or full dentures – a number that is only expected to rise as baby boomers begin to reach retirement.
Frequently Asked Questions
Am I a candidate for dentures?
You may be a candidate for dentures if you are missing one or more teeth and are in need of an affordable prosthetic solution. Most denture wearers find that partial and full dentures can restore much of their original tooth function – not to mention create a beautiful, natural-looking smile. To find out if dentures are right for you, schedule a consultation with your dentist.
What should I expect when being fit for dentures?
If you have any decayed or damaged teeth that need to be removed, they will be extracted before your dentist takes a mold of your remaining gum structure, as well as the roof of your mouth. This mold will be sent to a dental lab for denture fabrication. When the completed dentures are completed, you will return to your dentist for a final fitting.
Will I need to follow any special instructions to care for my new dentures?
Yes. Dentures are removable prosthetics that will need to be cleaned and brushed daily. You should also brush your gums daily to prevent infections caused by bacteria. Your dentures should be kept in water when they aren't in use to prevent them from warping. Keep in mind that it may take some time to adjust to dentures as you learn how to use the muscles in your cheeks and tongue to keep them in place. But over time, you should begin to feel more comfortable with your new prosthetics.
Removable Dentures
Dentures are removable tooth prosthetics designed to look and function like natural teeth. For thousands of years, some form of denture has been used to fill in the gaps left by missing teeth, although today's dentures are much more advanced and easier to care for. Most dentures are composed of replacement teeth attached to plastic bases that take on the appearance of the gums. They are used to compensate for one or more missing teeth, and are available as partials and complete sets of teeth. Many dental patients elect dentures for tooth replacement if they are not candidates for dental implants or are otherwise looking for a tooth replacement option that is more affordable and budget-friendly.

Caring for Your Dentures

Your dentures are custom designed to fit your smile, but did you know that improperly caring for them can cause them to become distorted? Most removable dentures must maintain moisture to retain their shape. Be sure to wash them after eating, gently clean them once daily, and allow them to soak overnight in a denture soaking solution. This will keep your dentures clean and free of stains, which ultimately helps your smile look its best.
Frequently Asked Questions
How do I know if I am a candidate for removable dentures?
If you are missing one or more teeth and thinking of getting dentures, you will first need a professional consultation with a dentist experienced in denture placement. During this time, you can explore your tooth prosthetic options, ask questions, and make a decision as to whether dentures are right for you.
What should I expect when being fitted for dentures?
Your gums must first be prepared before you can begin wearing dentures. If you need one or more teeth removed, the process could take several months while you wait for your gums to heal from the extractions. An impression will then be taken of your gums and the supporting bones beneath the gum, which will be used to fabricate a complete or partial denture in a dental lab.
Will I need to follow any special after-care instructions?
Once your dentures are ready, you can begin wearing them on a daily basis. Expect the first few weeks to be an adjustment period, during which time you will adapt to the feel of your new dentures, as well as learn how to manipulate your tongue and cheek muscles to keep them in place. You may also experience slight irritation or soreness from the initial denture wear although this should subside after a few days or weeks.
Locator Retained Overdenture