January 2018: Goals and Resolutions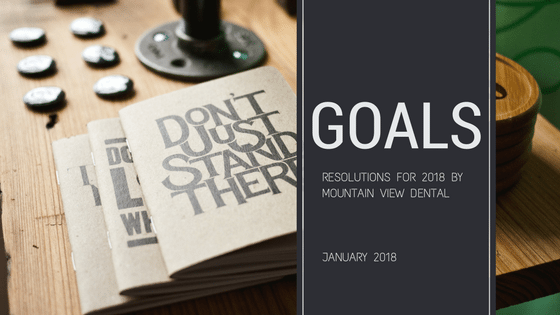 Hello and welcome to the Mountain View Dental blog. This will be a place for us to communicate with you regarding your oral health, office updates and all things tooth-related. You will see a new blog post each month and we hope the information is helpful and fun! Well, as fun as it can be. 😉
This month, we'd like to talk about GOALS. The word "resolutions" brings some negative feelings to some of you. We've heard you say "My New Year resolution is to not make a resolution" and we get it! Goals are tough to set and often even more tough to keep. We don't like the feeling of "failing" so we don't set ourselves up to do so, if we can avoid it. We want to take back this word and make it positive, hopeful and attainable in the dental world.
We asked our entire team to contribute to this idea of goal-setting for the dental office and I'd love to share some of their responses. As you know, our team is comprised of pretty amazing individuals who truly care about the patients we see. You're not another number or face in this office and I hope each person you encounter makes you feel valued. Here are some of their goals:
"Become more tech savvy"
"Get more efficient with Cerec Crown Process"
"Continue helping each other with time awareness so patients are seen on time and team members get lunch and breaks"
"Do team dinners from time to time!"
"Implement 'Positivity Day' once a month where no team member can complain about anything (or they put $1 in the jar)"
"Time management and getting tasks done each day"
There were actually more resolutions than these, but this is a great start! Achieving these goals would mean our dental office would run more efficiently which would help our patients and our team.
It is important that these goals are not forgotten or given up on. To help us reach or work on our goals, we are discussing them every month at our team meeting. We've posted our goals in our break room so we can see it and be reminded. Additionally, we've looked into training opportunities in 2018 to help our team learn from the experts about the topics that interest them most and help them reach their goals.
At the end of the day, we are all trying to improve in different areas of our lives and our workplace is definitely a big part of that. We strive to help each other and to make appropriate changes that would make your visits more enjoyable and seamless.
We have also heard many people resolve to make their oral health a greater priority in 2018. You're not alone! Even dental professionals have this GOAL because our lives are busy and our time and finances are limited so dental work can sometimes be a real strain. If you want to make your dental work a priority this year, but want to first talk about your financial options or treatment plan, please feel free to call our office and even schedule a consultation if you'd like. We want to help you achieve your goals this year. Thank you for reading and happy 2018!
Toothfully yours,
Joshua Kirk, DMD and the Mountain View Dental team